You are here
Back to top
Journal and Workbook for James Clear's Atomic Habits: Chapter-by-Chapter Highlights and Key Points plus Custom-Designed Workbook Pages - All the Tools (Paperback)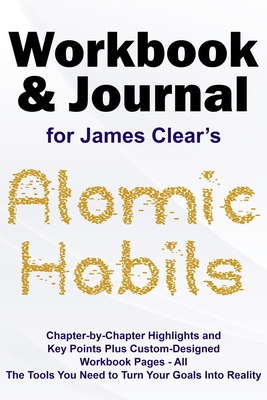 $10.99
Email or call for price.
Description
---
Let's be unguarded.
James Clear's incredible Atomic Habits is so full of great ideas, helpful advice and brilliant strategies to make changing your life and work habits easy, doable and downright pleasant that it can be difficult to sort it all out and make an actionable plan. It might even cause a case of overload / overwhelm which can inhibit action.
We are reminded that success is not just one big thing that blew off from nowhere; but, a string of consistent little actions. We are where we are because of our habits.
However, work books play a great role in helping us to deeply imbibe the knowledge that we have acquired from during the course of a learning venture. It also serves as an avenue to guide readers to internalize their "new found" knowledge through the means of tasks, practical exercises, questions etc. the end result is action. They are carefully crafted and cover every topic that was discussed by the author.
As we go on, you will come across chapter-by-chapter reviews cum summaries in which the issues discussed there would be highlighted. You will find:
- Highlights and Key Points for each chapter,
- Lots of blank journal pages to record your own insights and ideas,
- Workbook pages specially tailored to help you brainstorm, plan and execute Clear's strategies,
- Master Planning pages to develop action plans for each habit you want to develop or eliminate,
- Habit Tracker pages - an entire year's worth